From Therapist to Coach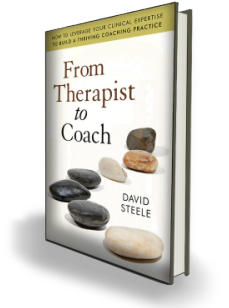 This comprehensive 75-minute program provides a detailed overview of coaching for therapists from my book From Therapist to Coach: Leveraging Your Clinical Expertise to Build a Thriving Coaching Practice
In this program you will learn:
Why coaching is a natural fit for therapists
How I went from frustrated therapist to full coaching practice in 90 days (and you can too!)
How to get more private-pay clients by integrating coaching into your practice
How to leverage your clinical expertise to build a fun and profitable coaching business
How to help your clients achieve their most important life, relationship, and business goals as a coach
This is an engaging program full of direct answers to your most pressing questions about coaching, such as:
What's the difference between coaching and therapy?
Do you need specialized training to provide coaching?
Do you need separate liability insurance?
Can you do coaching and therapy with the same client?
Is coaching eligible for insurance reimbursement?
How do you get high paying clients as a therapist-coach?
Get all (or most!) of your questions answered in this program!
Get this book here

For FREE membership to our practice-building network click here
(over 67 free member benefits and resources are waiting for you!)
Check out these additional resources-
A Short History of Coaching for Therapists- www.relationshipcoachinginstitute.com/short-history-coaching-profession/
From Therapist to Coach book excerpt- www.relationshipcoachinginstitute.com/therapist-coach-book-excerpt
How to Fill Your Therapy Practice with Private Pay Clients- www.relationshipcoachinginstitute.com/fill-therapy-practice-private-pay-clients/
How to Choose a Niche- http://www.relationshipcoachinginstitute.com/how-to-choose-a-niche/
Download Relationship Coaching Institute's Relationship Coach Starter Kit-
http://www.relationshipcoachinginstitute.com